Získejte při nákupu telefonu SAMSUNG až 4000 Kč zpět!
Dále jsme si pro Vás přichystali slevu v podobě cashbacku. A to celých 4 000 Kč na telefony Samsung S8/S8+ a Note 8!
A jak to celé funguje? Koupíte si u nás na pobočce telefon za standardní cenu a poté už se stačí pouze zaregistrovat a peníze Vám SAMSUNG vyplatí zpětně. To se vyplatí! Detailní podmínky najdete zde. Akce platí až do konce dubna!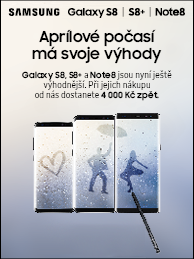 Vloženo: 10.04.2018.